Get Your Bouffon On!: Drop In Bouffon Classes in NY Mondays.
Through August 28, Audrey Crabtree (co-organizer of the NY Clown Theatre Festival at the Brick and who plays Laura in the Hilarious Bouffon Glass Menageree) , is hosting a drop in class in Bouffon. Mondays, 8-10 pm, Classes are $10 each, 521 West 26th Street, 2nd floor (between 10th and 11th)
(More info below)
For those not in the know, Bouffon is a clown style that is perhaps best described as what happens when birthday clowns are hit with a dose of gamma ray radiation, and turn evil, misanthropic, and MORE than a little sinister. And yet somehow, they still manage to be very funny.
The form was re-captured from a French Renaissance tradition, and re-created by renowned clown teacher Philippe Gaulier in the 1970's-80's. Since then a lot of people have come to study and create bouffon characters and plays, and create theories about the Bouffon.
Eric Davis (The Red Bastard, who directed above mentioned Bouffon Glass Menageree) writes in a description of one of his classes:
While the clown is completely vulnerable, the bouffon shows no vulnerability. He exists to mock the society which has cast him out for being deformed. (this could be physically, spiritually, socially?) The Bouffon is the manipulator. Deformed, yet charming. Grotesque, yet beautiful. He is smart, entertaining and like the most brilliant idea, or deadly of viruses — utterly infectious. A bouffon's perfect day? While making a mockery of the mayor to a huge laughing crowd, the mayor wanders by to see what all the fuss is about. When the mayor sees that the crowd knows who he really is, the mayor has a heart attack and dies. Hip Hip Hooray!
And Trav S.D., vaudeville historian and theatre critic, describes it this way in an article about aforementioned show: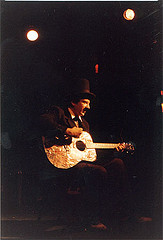 The novice is immediately misled by the similarity of the form's name to "buffoon." But that is a blind alley. "Bouffon" is to "buffoon" as a wet gremlin is to a dry one. To complicate matters, many bouffon practitioners are also clowns, and similarities exist between the two forms. The get-ups and behavior are grotesque; laughter is produced. But if these are clowns, they are cousins to Stephen King's "Pennywise", or the real-life John Wayne Gasey, that inveterate serial killer and sometime children's birthday party entertainer. No one is jolly in bouffon. The carnation squirts acid; the joy buzzer releases a thousand volts. One laughs uproariously throughout, but one is constantly checking oneself: "Was that okay? No, that wasn't okay. It goes against everything I'm supposed to think and feel as a civilized human being. If I laugh, it must be because I am possessed by devils". Actually, one only starts to think those thoughts before being cut off by the next appalling remark or action onstage.
All this by way of saying that if you are interested in bouffon, the drop in class that Audrey is running is definitely the place to be.
Here's the class info. Enjoy. Or spread your infection (whichever is more appropriate to you!)
Bouffon Workout Lab
"So I have studied bouffon…now WTF do I do with it?"
Come to this weekly drop-in Lab! In this playful and supportive environment, we will begin with warm-ups, bouffon basics, and we will focus on the creation and showing of new material, development of character, and group work, led by

Audrey

Crabtree. Looking for people who have a bouffon base and want to expand on it.

Get your Bouffon On
!

Monday nights July 28th-August 25th

8-10pm $10
Last week we had a lot of fun, and found out 2 hours is a very short time.

Please bring a

costume to play in.

I will be there early to stretch outside-the closer everyone is to a little before 8pm the better.

This week we will warm up, play together and spend the last 30 minutes showing some material that people would like feedback on.
521 West 26th Street, 2nd Floor
Between 10th and 11th Avenues
Chelsea neighborhood of Manhattan
Cell phone for more info:

917653-1547
Important
do NOT the

use elevator walk up to 2nd floor and ring buzzer.